Amos
Amos is around 11 years old. We rescued Amos from a shelter in August 2018 and placed him in his foster home. It was estimated that he was 10 years old at the time.
This little guy has had many vet visits to address each of his issues. His rear end is weak, and he had an ear infection that put him in the ER for 4 days and left his hearing impaired. Amos had his teeth cleaned and was brought up to date on his vaccinations.
Over the next 6 months in his foster home, his foster mom watched him and walked him every evening with her dogs. Amos walked a lot of circles and seemed very "off" as far as communication. There were some adoption applications, but when people met him, they just weren't ready for a dog with Amos's handicaps. Amos is in his own world in his mind and isn't the dog that you can snuggle. He can't even communicate unless he's very unhappy. We had to determine that Amos was not adoptable.
Today Amos walks his little circles in his "Hospice" home, enjoys his meals and his time in the back yard where he gets sun. He seems to watch the other dogs play and every once in a while he will take off running like he's excited, but for the most part Amos walks his circles and stays in his own world in his head. He can't find his way to the patio from the back yard, so his foster mom carries him in and out. He does find the water bowl, never misses his food bowl, sleeps in his crate that makes him feel secure every night and is doing very well. Once in awhile Amos will stop and look up at his foster mom for a second or so. She believes he's saying, "I'm good mom".
Tippy
Tippy is now in Hospice Care. She is a cuddler and lap dog. She is 14 years old, 18" tall and 20 pounds.
Tippy LOVES to take her walks in the morning and evening and go for any type of car ride. She sits in the seat and looks out the window. Tippy is house trained if she has a dog door. Despite being a little hard of hearing, she is very alert.
Tippy will spend the rest of her days with her foster mom being loved and cared for.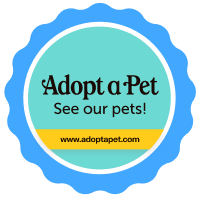 We are the oldest, active 501(c)(3) Jack Russell Rescue in California​
email: rrcainfo@gmail.com